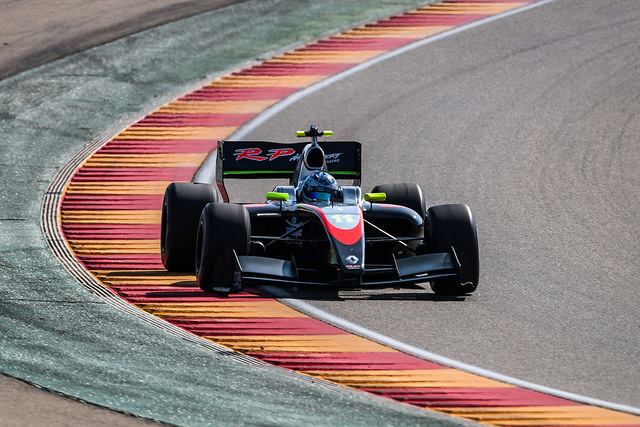 World Series Formula V8 3.5 race-winner Roy Nissany will continue in the series this year with RP Motorsport, taking the place of Damiano Fioravanti.
Fioravanti had previously been promoted to the series by his former Euroformula Open team RP, but has since transferred to Giuseppe Cipriani's Barone Rampante entry following "an agreement reached by both Italian teams".
Nissany and Fioravanti already ran with their new teams at the first pre-season test at Motorland Aragon last week, and will do so again at Jerez on Thursday and Friday.
Israeli-born Nissany will enter his third season in the series, having won on three occasions with the Charouz-run Lotus squad last year.
"Roy was one of the best drivers in the World Series last year and we believe that together we can build-up a very strong team for 2017," said team boss Fabio Pampado, whose outfit will also run Japanese driver Yu Kanamaru this term.
"Both Roy and Yu join the team in their best moments.
"I'm also very happy with the agreement reached with Barone Rampante for our driver Damiano Fioravanti.
"I'm convinced that Cipriani's team will give the opportunity to Damiano to make a strong debut in the series."
Nissany added: "After a very powerful season within Lotus I think that to join RP Motorsport is the best option.
"They've only had one year of experience in World Series but they have shown an incredible potential as when they won one of the races in Hungaroring last year."
Eleven drivers are now confirmed for the 2017 season, but the entry list for the Jerez team features no further drivers, with Teo Martin Motorsport currently set to field only Konstantin Tereschenko.
Reigning teams' champion Arden Motorsport has confirmed to Autosport that it has withdrawn from the series, while Comtec and Durango are also yet to appear during pre-season.
World Series Formula V8 3.5 grid so far:
Lotus: Rene Binder/Pietro Fittipaldi
AVF: Egor Orudzhev/Matevos Isaakyan
Fortec: Alfonso Celis/Diego Menchaca
Teo Martin: Konstantin Tereschenko/TBA
RP: Roy Nissany/Yu Kanamaru
Barone Rampante: Giuseppe Cipriani/Damiano Fioravanti